Site Report Pro allows you to import projects that have been exported from Site Report Pro. These may be for reasons of restoring a previously backed-up project, or another Site Report Pro user may be handing their project over to you.
The process of importing will vary depending upon where the project has been exported to.
Examples of how to import when you receive a project as an attachment in an Email or a Dropbox share are shown below.
To import a project that you receive as an attachment in an e-mail:
Open the mail application on your device and locate the e-mail containing the Site Report Pro project file.
Click (or in some cases it may be necessary to press and hold) on the Site Report Pro application icon.
Click the Site Report Pro icon (copy to Site Report Pro) in the menu that appears. The project will now be imported and displayed on the projects screen.
1. Click the attachment in mail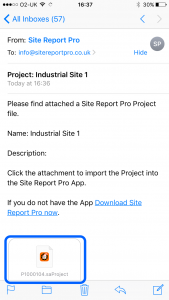 2. Click the Site Report Pro icon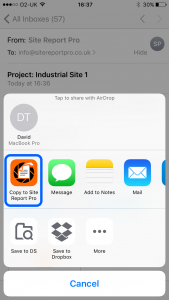 To import a project that you receive via Dropbox (note, you will require the Dropbox App installed on your device and an appropriate login):
In the email you have received from Dropbox, click the View File button.
The dropbox App will open and display the 'No Preview Available' screen. Click the More button (3 dots).
Click the Export button from the drop down menu.
Click the Open In button on the pop up menu.
Click the Copy to Site Report Pro button on the second pop up menu.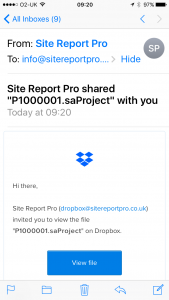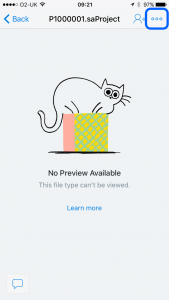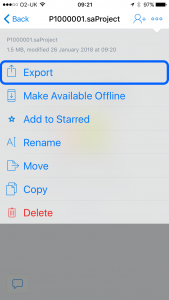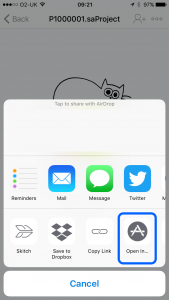 5. Click the Site Report Pro icon
PLEASE NOTE: Projects will be exported will a filename such as p1000128.saProject. If you export the same project to the same folder in dropbox more than once, then dropbox will create another file (it won't overwrite it) and MODIFY the filename with a version number (e.g. p1000128 (1).saProject, or p1000128 (2).saProject).
Site Report Pro WILL NOT be able to read these files and so the filenames should be modified (remove the version number in brackets and any spacing) before an import is attempted.
If you wish to export multiple version of the same project to Dropbox for the intention, then we recommend you save each version to a separate sub-folder.
To learn how to export a project from Site Report Pro view the Export Project article.